UL Lafayette's traditions express our Ragin' Cajun pride, a zest for life, and commitment to serving others. These campus traditions are also supported by Housing and Residential Life.
Wear(ing) Red
It's a tradition — and our favorite color. Every Friday, students, faculty, staff and community members show their Ragin' Cajun spirit by wearing red.
Other traditions have come and gone, along with name changes and spirit leaders, but red has always been the University's school color. In fact, we are the only university to have vermilion as an official color.
Welcome Week
Held the first week of classes every fall, Welcome Week consists of activities meant to greet students as they come back to campus or arrive for the first time. On the first day of class, University administrators, coaches, and student leaders hand out donuts and fruit at the corner of Rex Street and St. Mary Boulevard. The week also includes Get on Board Day in the Quad, where students can learn about campus organizations. Students, faculty and staff also get a chance to enjoy free breakfast in the Quad, followed by the annual Block Party.
Block Party
The annual Block Party rounds out Welcome Week. Students stroll up and down St. Mary Boulevard, collecting free shirts, drinks, bags, and sometimes even hopping on a mechanical bull.
Crawfish Boils
Our students love crawfish and enjoy many crawfish boils throughout the season, but the biggest and most excited boil of the year happens on Lagniappe Day. Every spring, the University Program Council boils over 20,000 pounds of crawfish that students get to enjoy for free, along with music, dancing, and a lot of laughter.
Get On Board Day
During Welcome Week, student organizations across campus set up in the Quad to promote their organizations. Students walk from table to table and learn more about what our student groups have to offer. Get On Board Day gives students the opportunity to discover ways to get involved and make new connections.
Homecoming
Homecoming is the most exciting week each fall. During Homecoming Week, students, faculty, staff, alumni, and fans can take part in activities such as Paint the Town Red, Yell Like Hell, an alumni tennis or golf tournament, or the Ragin' Road Race.
Enjoy Homecoming cake, help out with a food drive or watch a student karaoke contest or a Greek step show. Watch the parade and tailgating on Saturday morning, Homecoming Day. And, of course, stay for the big game on Saturday afternoon.
Remember, Ragin' Cajuns have a gift for bringing people together. Come back home and celebrate with us each fall.
Lagniappe Day
Something extra. That's what Lagniappe Day is all about. Each spring just before finals, students take a break from studying with fun activities: canoe races in Cypress Lake, the annual lake jump, and a 20,000-pound crawfish boil.
Lake Jump
Ready. Set. Splash! Philip Beridon began this tradition back in 1977 and every year, hundreds come out to watch a student take a plunge into the murky waters of Cypress Lake as part of Lagniappe Day.
Official University Ring

The University's official ring is embodies the spirit of UL Lafayette. The red stone represents the university's primary color, vermilion, and also features its fleur-de-lis. The University has used fleurs-de-lis in its insignia since the 1920s in recognition of the region's French heritage. Additional imagery includes cypress and oak trees; the university's seal; and Martin Hall, the main administrative building. Inside each ring is the inscription "heart and hand," the final three words of the University's alma mater.
Students who order rings can participate in the official ring ceremony each fall.
Ragin' Roar
Spirit. That's what Ragin' Roar is all about. Its the biggest pep rally of the year when students gather on campus before the first home football game. The event, sponsored by the University Program Council, is a long-standing tradition.
Ring Ceremony
The annual Ring Ceremony celebrates the bond between all UL Lafayette graduates. University President Savoie personally presents students and past graduates with their rings as they walk across the stage in Angelle Hall.
The night before the ceremony, the rings are carried across Cajun Field during halftime at a Saturday night football game. After the game, members of UL Lafayette's Army ROTC escort the rings to Cypress Lake. There, the rings are loaded onto a custom-built, metal pirogue to spend the night on the water, guarded by students.
Sneaux Day
The snow may not fall from the sky but the holiday spirit is genuine. Just before winter break, the University celebrates Sneaux Day at Martin Hall with jambalaya, ice skating, a visit from Santa and the lighting of the campus tree. A snow machine covers the front lawn with shaved ice, perfect for snowball fights! Students, faculty, staff, and their children get to enjoy this time together.
The Spirit of Service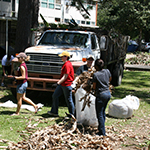 Service to others is a tradition at UL Lafayette. Each year, on average, students and faculty provide more than 150,000 service hours with an economic value of about $3 million. They work with agencies such as United Way and Habitat for Humanity to help meet community needs as well as tutor schoolchildren to help them succeed. Ragin' Cajuns also get their hands dirty helping keep Lafayette's primary waterway, the Bayou Vermilion, clear of debris and invasive plants.
UL Lafayette's AmeriCorps
Students provide community support through UL Lafayette's AmeriCorps program. The University's chapter is one of the oldest in the nation and the only campus-based AmeriCorps program in Louisiana.