Legacy Park Apartments
Legacy Park is an on-campus residential community exclusively for upperclassmen that offers an independent lifestyle still well within reach of everything UL Lafayette has to offer. Available in private, 2- or 3-bedroom/bath layouts, each unit offers a host of amenities that feel just like home. Each unit comes equipped with a full-service kitchen, washer/dryer combination and private patio or balcony.
New for 2019-2020, Meal plans are optional for all on campus apartments!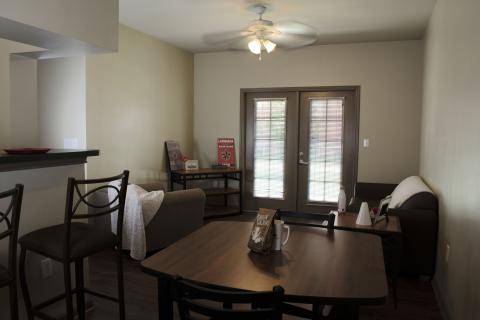 Amenities
All units have:
Kitchen: Oven, Microwave, Refrigerator
Living Room: Sofa/Love Seat, Chairs, Dining Table, Barstools, End Table, TV Stand
Washer/Dryer Combo
Private Patio and Balcony
Wi-Fi & Wired Data Connection
BBQ/Picnic Area on landscaped grounds
Card Access to Apartment Entrances
Dimensions
| 1 Bedroom Unit | 2 Bedroom Unit | 3 Bedroom Unit |
| --- | --- | --- |
| Bedroom Width 11' 1'' | Bedroom Width 7' 11" | Bedroom Width 10" 4" |
| Bedroom Depth 16' 6" | Bedroom Depth 10' 5" | Bedroom Depth 7' 10" |
| Bathroom Width 4' 11" | Bathroom Width 4' 10" | Bathroom Width 7' 2" |
| Bathroom Depth 11' | Bathroom Depth 7' 9" | Bathroom Depth 7' 10" |