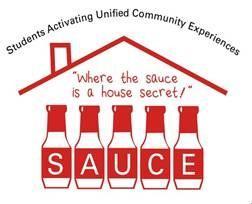 2023 SAUCE Retreat
S.A.U.C.E Application Are Open.
On behalf of the University of Louisiana - Lafayette, the Office of Residential Life, the Office of University Housing, & the Residence Hall Association (RHA), we welcome you to your new home! We're excited to meet you, and want to give you an opportunity to begin your leadership journey with RHA's SAUCE Leadership Conference (Students Activating Unified Community Experiences)!
RHA and its Community Councils are students just like you who make up the residential student council for representation, leadership, and change within the residential communities. You can prepare for the upcoming year by learning the secret ingredients in your own SAUCE. By participating in the 3 day SAUCE Leadership Conference you will be able to take control of your leadership skills, get connected to UL, and become part of a new tradition on campus.
During the SAUCE Leadership Conference you will meet other on-campus residents, learn the ins and outs of RHA, and gain useful insight into living on campus at UL. The conference is FREE and includes housing, meals, and conference materials during those 3 days.
Click Here To Sign Up For S.A.U.C.E 2023
Please note that there is a $15 dismissal charge if the resident commits to attend and fail to do so or does not participate in the retreat and its enterity.
The benefits of applying are the following:
⚪ Move in early on August 8, 2023 -  four days prior to the official Move-In days to participate in the conference
⚪ Make friends prior to school beginning.
⚪ Experience 3 days of developing leadership skills, teamwork, diversity, and problem solving.
⚪ Be part of the Move In day experience as a volunteer or volunteer lead.
⚪ Take lead in planning some RHA future programs
If you ever have any questions or concerns about the food, logistics, activities during the conference, and want further detail, please do not hesitate to email the Office of Residential Life or call us at 337.482.6272. We look forward to working with you and we want this to be as enjoyable of an experience as it can be.
Follow us on social media on IG: ul_reslife and ul_rha