**2023 Appointments will be available July 24 - July 30, 2023***
All residents must schedule a move-in appointment in order to check-in. Residents will be notified via their University email of their Fall 2023 assignment. Please note that you are assigned a move in day and you get to choose a move in time of that day. Residents will select their move-in appointment online on the Housing Portal. The deadline to schedule your appointment is July 30, 2023. If you fail to schedule an appointment by then, one will be assigned to you by the University Housing office. If your assignment was recently edited or changed by our office, you are required to schedule a new appointment based on your new assignment. Please log back in to the Housing Portal and reschedule your appointment.
On the week of move in, you will receive a reminder email. Read that email closely for important updates. NOTE: Any student that is part of an organization/program that has move in scheduled with their group (like SOUL Camp A, SOUL Camp B, Band, Athletics, LIFE) does not need to set a move in appointment. The coordinator of the program has already coordinated a move in date/time. Contact your Program Coordinator for specific move in times and instructions.
See the step-by-step instructions below for how to schedule this appointment:
Step 1: Log into ULINK, click on Campus Services, and select 'StarRez Housing Portal. You will be logged into the Housing Portal and you should click on 'Move In Appointments' in the left column 
Step 2: Review the Move-In Appointment process and follow the instructions to advance to the next page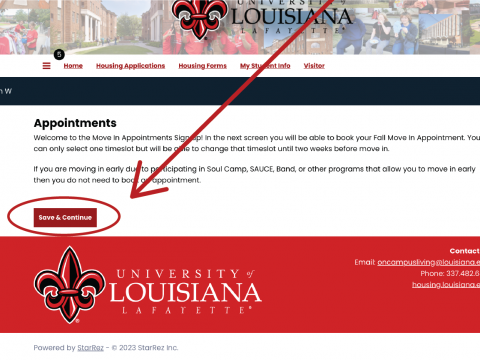 Step 3: Select your "Fall 2023 - Spring 2024" term to access available appointments
Step 4: On this page you will see 30 minute appointment blocks. Review and select a move-in appointment. Once selected, you will be able to see the move-in appointments available for your community. Please note that appointments are available on a first come, first serve basis
Step 5: After selecting your time, click 'Confirm' to finalize your move-in appointment selection. 
​
Note: All appointment times are 30 minutes. This time will start when you arrive at your unloading area and this is for you to unload your car. After your 30 minutes is up, you should move your car to the designated parking area for your community to allow other residents to unload. This appointment time is only for you to unload your belongings, not to unpack. After you move your car, you may return to your room and begin unpacking and decorating your space. 
---
---